We provide quality mobile application development services to our clients. Our expert team comprises of experienced programmers (Android developers, iPhone developers) with in-depth knowledge in mobile application development. Our experts have developed applications for Apple iPhone and iPad, Android, Symbian, Microsoft Windows Mobile, J2ME and BlackBerry platforms. With a wide variety of mobile applications developed for our in-house as well as client requirements, we take pride in our ability to satisfy our clients every time.
---
Solution for Corporate
Solution for corporate is an App Store developed for the Corporate clients. Identifying the boom in internet usage by people and businesses, many players have developed Application Stores in their attempts to make the most of the opportunity. But most of these App Stores are developed to sut the needs of the end-customer.
Solution for corporate is an outcome of our earnest attempts to develop an App Store for our corporate clients. Our App Store helps corporate users to control and manage their applications and distribute them among the internal staff in no time. In addition to this major advantage that it provides its corporate customers, the following can not be overlooked:
Ease in tracking customer enquiries and leads generated.
Searching for the products, services and solutions offered by the company and it's partners is made easy.
Acts as an online marketing channel
All these factors helps our corporate clients build their brand image, increase their customer base and maximize revenue.
---
Solution for Operators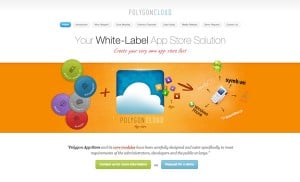 Solution for Operators is the answer to any mobile operator's search for the ideal Application Store. Application Store also called App Store are online services for distribution of application software like office suits, graphics software, media players etc and has now become a major factor contributing to the competitiveness of any mobile operator.
Our App Store supports applications of all major mobile operating systems like Symbian, BlackBerry, Android and Microsoft Windows Mobile. With Polygon, mobile operators can now manage and control their mobile applications with ease. Moreover, integrating the mobile operator's existing IT infrastructure and networks with Polygon App Store is fast and economical be it integration of customer billing system, user registration and authorization etc.
Providing subscribers with easy access to streaming and downloading numerous applications, it helps mobile operators stay competitive and create good brand image in the market. Our App Store can be deployed in either the one-off local installation mode or the cloud-based hosting mode.
One-off Local Installation
Our hardware and software solutions help mobile operators who prefer the one-off local installation mode to integrate this App Store to their IT infrastructure easily and effectively. The one-off local installation of Polygon ensures minimum vulnerability of data.
Cloud-based Hosting
Holding hands with Amazon, one of the major cloud hosting service providers, it offers mobile operators all the benefits of cloud based hosting. Unlike hosting on a server, cloud-based hosting enables our clients to take advantage of the lower costs and increased energy savings. This also ensures reduced risk of data loss.
---
Platform for bloggers
Platform for bloggers is one of our latest innovations. This is a free platform which assists bloggers to change their blogs in to a native iPhone application. Supporting a variety of free blogging platforms like blogspot, blogcrive etc as well as self-hosted blogs, Blogapp is a very user friendly platform that is compatible with iPhones, iPod Touch and iPads with OS version 3.0 or above.
Thanks to the QR Code technology, bloggers can now sign up, add their blog and customize it, all in less than five minutes. Some other significant features of this application include:
Easy and innate navigation between blogs.
Access to blogs when offline.
Facility to share blog posts on social networking sites etc.
---
Android App Development, iPhone App Development, iPhone Application Development
Other mobile application, majoring in Android development, iPhone development and iOS development etc.
iPhone, iPad, Android and BlackBerry Apps
All of these applications are built on our mobile platform with PUSH technology and Mobile Data Compression. These applications support all mobile OS platforms.
---
Sports and Games
World Football Live Score 2010/11 – iPhone and Android
| | |
| --- | --- |
| | Some unique features of this application, covering almost all the major football leagues in the world are: |
Dynamic loading – Football data are loaded only when matches are available
Minimal Data Transmission over the air helps save data charges.
Extremely fast loading on all networks.
Search option
The following major tournaments are covered:
Africa: CAF (African Nations Cup)
Asia: AFS (Asian Cup of Nations)
Europe: UEFA (Champions League, Euro 2012, Euro Super Cup, Intertoto, UEFA Cup)
FIFA: Confederation Cup, World Cup Qualifying 2010
International Club Matches
South America: CSF (Copa America, Coa Libertatores, Copa Sudamericana, Gold Cup)
MOTO Racing 2011 – for iPhone
| | |
| --- | --- |
| | Designed exclusively for MotoGP 2011 season, MOTO Racing 2011 has the following unique features: |
Exclusive Live and Full coverage: Practice sessions, Qualifying sessions, warm up sessions and the Race.
All the breaking news and top stories on a real time basis.
Leaderboard updates
Fastest Lap statistics throughout the race
Racer profiles
Team profiles
Track details with map info
Race Schedules
Table Standings information after each race.
F1 2011 Headline News – for iPhone
| | |
| --- | --- |
| | This is the ideal choice of an F1 fan to keep abreast of the latest happenings in the F1 2011 season. The features of this app include: |
Real-time updating on breaking news
News with images
Very fast loading
Facilitates offline reading of saved data.
F1 2011 Premium – Built for iPhone, iPad and iPod
| | |
| --- | --- |
| | Developed exclusively for the F1 2011 season, this app is a must have for F1 racing fans. |
Features:
Lap-by-lap live commentary and full live coverage.
Push notifications for: top ten race positions, race schedules, race results etc.
All the breaking news and top stories on real-time basis.
Table standings after each race and Schedules.
Driver and team profiles.
Track information.
Information regarding past races (driver and team championships included), starting from 1950.
Facility to share news via social networking sites and email.
The following apps provide some features like:
Push Notification that is customizable – to provide it's users with the advantage of receiving instant notifications without having to launch the app.
Real time coverage of the full match.
Live score news and table standings.
Bar presentation of the match progress.
Goals with Sound alerts.
Match data from the past seasons.
Automatic local time zone kick-off etc.
Russian Premier League 2011 – for iPhone
English Premier League 2010/11 – for iPhone, iPad, Android and BlackBerry
US Soccer League 2010/11 – for iPhone
English League Championship 2010/11 – for iPhone
English League One 2010/11 – for iPhone
English League Two 2010/11 – for iPhone
Japanese Football 2011 – for iPhone
This application covers Japanese League and Japanese League 2. Modifications are being made to incorporate the Cup.
Scottish Football 2010/11 – for iPhone
This application covers Scottish Premier League, Division I, II and III.
Dutch Football 2010/11 – for iPhone
This application covers Dutch Eredivisie, Jupiler League and KNVB Beker.
Spanish Football 2010/11 – for iPhone
This application covers Primera Division and Segunda Division seasons.
French Football 2010/11 – for iPhone
This application covers League 1 and 2 (2010/11) and National 2010/11 seasons.
German Football 2010/11 – for iPhone
This application covers Bundesliga I, II and III, Regionalliga Nord, Sued and West seasons.
Italian Football 2010/11 – for iPhone
This application covers Series A, B, C1/A and C1/B seasons.
Belgian Football 2010/11 – for iPhone
This application covers Belgian Jupiler League and 2de Klasse/EXQI League.
Portuguese Football 2010/11 – for iPhone
This application covers Portugese Liga Sagres, Liga Vitalis and Taca de Portugal seasons
Singapore S.League 2011 with PUSH – for iPhone
Winter Sports 2010 Premium with PUSH – for iPhone
| | |
| --- | --- |
| | Provides full and in-depth coverage of the major Winter sports like Alpine Skiing, Biathlon, Bobsleigh, Cross Country, Curling, Figure Skating, Freestyle Skiing, and Ice Hockey etc. |
Features include:
Push notifications
Live results, medal standings and full schedules (local and remote time zone) for all the events
Photo and video gallery
Latest news on real time basis
Historical data from 1924 to 2006
Athlete profiles
Details on current and past venues etc
Hall of fame
WC 2010 Live with PUSH – for iPhone, iPad and iPod touch
Features that make this application a must have:
Push notifications
Live Scores, Commentary and top stories on real time basis
Live match details and table standings
Advanced match details and after match report
Option to select remote or local time zone
Hall of fame, Player and team profiles
Venue info and Video gallery
Historical data
Share info via social networking sites like Facebook and Twitter, etc
World Basketball Live 2010/11 – for iPhone
| | |
| --- | --- |
| | The Leagues available are USA NBA, Baltic BBL, France LNB, Greece A1, Italy Lega A, Germany BBL, Poland PLK, Russia Superliga A and Spain ACB |
The main features of this application include:
Live scores and table standings.
Automatic local time zone kick-off etc.
Bar presentation of the match progress
Quarterly Scores report
MOTO Racing 2011 Breaking News – for iPhone
| | |
| --- | --- |
| | This application is the right choice to keep you updated regarding the latest happenings in the Moto racing 2011 season. |
Features include:
Every detail of the breaking news with pictures
Very fast in loading
Large font size for easy reading
The following apps provide some features like:
Customizable, real time push notifications
Live scores, full match coverage, match preview and after match report
Visual presentation of starting line-up
Latest football news powered by Associated Press
Detailed match statistics and historical data
Automatic detection of local time zone
Share the details via social networking sites
Compatible with iOS 4
iPhone 4 retina screen support etc
English Premier League 2010/11 – for iPhone
German Bundesliga 2010/11 – for iPhone, iPad, Android and BlackBerry
French Ligue 1 2010/11 – for iPhone, iPad, Android and BlackBerry
Spanish La Liga 2010/11 – for iPhone, iPad, Android and BlackBerry
Italian Serie A 2010/11 – iPhone, iPad, Android and BlackBerry
Fun & More
Spot The Difference! UK Edition – for iPhone
| | |
| --- | --- |
| | This game brings to your fingertips, the fun and excitement of the very "Spot the Difference" game. Loved by kids and adults alike, this is a very easy game to play. Spot the five differences between two very similar pictures representing the beautiful places and local culture of England to keep moving forward through the stages. The 'Hint' option can always be used in case you get stuck. |
Spot The Difference! USA Edition – for iPhone
| | |
| --- | --- |
| | This game brings to your fingertips, the fun and excitement of the very "Spot the Difference" game. Loved by kids and adults alike, this is a very easy game to play. Spot te five differences between two very similar pictures representing the beautiful places and local culture of America to keep moving forward through the stages. The 'Hint' option can always be used in case you get stuck. |
TextArt Fun – for iPhone
| | |
| --- | --- |
| | Want to wish your friend a Merry Christmas? What could be more fun than a beautiful text art? TextArt Fun app supports a range of IMs and social networking sites like YahooIM, Google Talk, Facebook, eBuddy, FourSquare etc. Some of the exclusive features of TextArt Fun are: |
1000+ text arts and new text arts added every week
Choose from a range of categories including Christmas, New Year, Birthday, Friends etc and send them directly using In-App SMS
Easily customizable for other apps
Support iPhone 4 retina display
We are also working to include:
Facility to send text Art to non-iPhone users
Built-in email
Create your own text art and type using funky fonts
Embedded Emoji
1Malaysia – for iPhone
| | |
| --- | --- |
| | This iPhone app is designed to support tourists visiting Malaysia. The Malaysian people can also benefit from some of the unique features of this application which include: |
Real time live traffic conditions from 30+ CCTVs in more than 20 major streets in Kuala Lumpur
Currency Converter for 20 major world currencies against the Malaysian Ringgit
Integrated Railmap showing transit points, stations and routes of different train operators
LBS for public transport where the app shows you the distance and the route to your nearest public transportation station
Journey planner to provide you details on public transport system connecting two destinations of your choice
Weather forecast
Photo gallery
Travel spots
Phone directory with emergency numbers etc
We are also working to include:
Feed from more CCTVs including real time images to enhance the live traffic conditions feature
Map overlay feature to map traffic conditions on Google maps – the street color turns red when there is heavy traffic in the route
More locations to be added to the LBS feature
User reviews and daily news
Currency calculator to convert any currency to the Malaysian equivalent
Offline browsing
OhMyFood – for iPhone
| | |
| --- | --- |
| | Confused as to where to eat tonight? Let our new app show you the place. Providing you with the latest reviews on restaurants around your place, OhMyFood will help you choose the right place for your tastes and preferences. The following features of this app might interest you: |
Reviews on the major restaurants around you
Recommendations and suggestions as per your taste and interest
Detailed list of restaurants with business hours, menu, photos etc
Listings by restaurant types, cuisines, location etc